If you have limited space at home to grow your own vegetables, fruit or flowers, you may want to consider an allotment.
There are 14 sites in Sefton. Some sites are managed by the Council and others are managed by Allotment Associations where they allocate plots and manage sites.
To help you decide to apply for an allotment plot. We have Questions and Answers on this page, a Sefton Allotment Tenants Guide and a  Sample tenancy to help you make your decision and to answer queries that current or prospective tenants may have, please read these before considering applying for an allotment plot or emailing us.
You can find a full list of all our sites together with contact details and the length of each waiting list.
Recently we undertook a survey or residents, allotment tenants and those on the waiting list to find out how people felt about allotments in the borough. The results and a summary report are available to read here.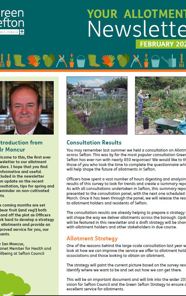 You can find the first issue of our Allotments Tenant newsletter here. 
---